Estate Law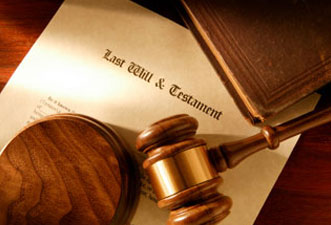 For your entire life, you have worked toward a set of goals: success in your career, financial stability, and a safe, secure future for your loved ones. But even though you may be comfortable now, what will happen to your family, property, and other assets after you are gone? No matter your net worth and no matter your age, it is extremely important to have an estate plan in the event you pass away or become incapacitated. This is even more important when children are added to the equation.
My office is committed to helping our clients with all aspects of the estate planning process –a process that will protect your family, investments, property, retirement savings, and business interests. These plans often include a will, durable power of attorney, healthcare proxy and trust.
Although many people become concerned with the future of their family and finances as they grow older, many do not know how to best protect against heavy taxes, family disputes, or the unfair distribution of your assets. I can help you answer the following questions:
Estate planning allows you peace of mind to know that no matter what occurs, you, your family, and your assets will be taken care of. There is no one-size-fits-all answer to estate planning – all of my clients have different needs and all of my clients have different priorities. While one person may be most concerned about leaving behind enough financial support for an ailing spouse, another may be most interested in leaving their money and real estate to a charity, community foundation, or other organization. Another client may be most concerned with designating an agent through a healthcare proxy to make decisions after their medical problems escalate, while still another client may be most concerned with designating a guardian for their young children in the case of an unforeseen accident or illness.
We can answer your questions:
What will happen to my assets if I die or am incapacitated?
How can I most easily designate who will inherit my assets?
I have a young family – do I need a will or other legal document?
How can I designate who will act as guardian to my children after I am gone?
How can I best avoid taxes and maximize how much I can pass on to my family?
How can I best make charitable gifts to the organizations I care most about?
Who will make medical decisions for me if I am unable to?
If I become incapacitated or lose mental clarity, who will handle my business affairs and ensure that I am taken care of?
What is a power of attorney? Who should I designate?
What legal documents do I really need to protect my assets and family after my death?
How can I minimize the red tape and paperwork and legal proceedings that my family will encounter following my death?
It is never too early to plan for the future, and it is foolish not to plan for the future simply because some scenarios seem unpleasant or unlikely. Located in Burnsville, Minnesota and serving the Minneapolis metro area, my office can help you with:
Estate Law Assistance
Wills and living wills
Revocable and irrevocable trusts
Health care planning and health care directives
Durable power of attorney
Special needs trusts and disability trusts
Reallocation of assets
Medicaid eligibility
Minimizing estate taxes
Probate
With a strong estate plan, you can be certain that you can protect your family's interests, your own assets, your property, and your business. If you live in Minnesota and are seeking advice or information from an estate planning attorney, please contact me today. Don't leave some of life's biggest decisions up to others.